World Class Facilities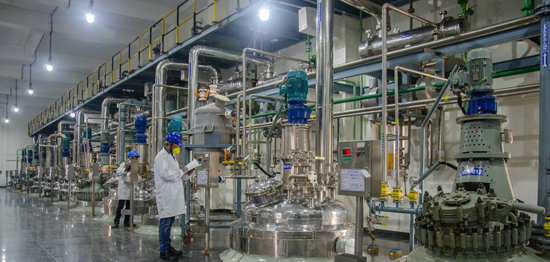 Innovare Labs' facilities are modern in structure, equipped with cutting-edge scientific technology and of reasonably large scale. The brand new Hyderabad R&D lab has been operational since October, 2015, where our scientists are actively developing and analyzing Intermediates and APIs.
Greenfield cGMP manufacturing facility near Vizag has commenced operations in January 2018. Below are the details:
Our R&D laboratory located in Hyderabad is modern and fully functional, while state of the art greenfield manufacturing plant is near Vishakhapatnam.
Manufacturing
Plant located near Achutapuram in a 10 acre layout. Currently the facility buildings occupy only 25% of the space.
Intermediate block with 31 Reactors, two suites of clean rooms for API manufacturing and Pilot plant with 7 reactors.
cGMP followed in the entire plant area with all SOPs in place and being implemented from day one of starting operations.
COE and CFE obtained form AP Pollution Control Board.
All the statutory licenses including Fire safety, usage of Methanol, Ethanol, Acetic Anhydride in place.
41 reactors with a total volume of ~122 KL. Civil construction ready for adding further ~80 KL capacity.
Hydrogenation block with 2 reactors.
1764 sq.ft of ware house, with segregation of spaces for low temperature and room temperature.
All the utilities are built keeping in view the requirements for future expansion.
Quality Control and Quality Assurance
All SOPs are in place and being implemented in all the areas including production, warehouse, Quality Control etc.
The plant has been successfully audited by some of the big generic companies.
Senior teams in QC and QA, including the management are highly experienced in handling successful regulatory audits by global health authorities.
Innovare is highly committed to support our customers by sharing the authentic documentation for hassle free regulatory approvals.